Rebecca Rothwell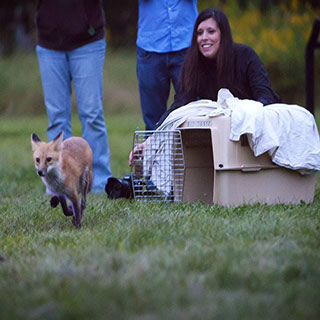 Rebecca Rothwell
Rehabilitation Therapist
Rebecca has a diverse background in animal rescue, rehabilitation and education. Growing up on a 200-acre farm in rural Ontario, she developed a love of the outdoors and a great respect for nature at a young age.
---
An honours graduate of the University of Waterloo with a background in communications and marketing, Rebecca devotes a considerable amount of time to training, volunteering and working with animals. She has completed her wildlife rehabilitation certification with the Ontario Wildlife Rehabilitation and Education Network (OWREN) and is certified in Pet First Aid and Technical Large Animal Emergency Rescue (TLAER) Level 1. She is also an emergency responder with RedRover (formerly United Animal Nations), deploying to animal emergencies and crises, such as natural disasters, criminal seizures and hoarding cases, to provide emergency sheltering and care for animals. Rebecca has worked with domestic cats and dogs, feral cats, foxes, coyotes, primates and other wildlife. From puppy mills in rural Quebec to animal shelters in hurricane-ravaged New Orleans to rustic rehabilitation centres in the jungles of Guatemala, Rebecca is committed to nurturing biodiversity and to improving human-animal relationships. She is an avid believer in education and in providing communities with the necessary tools to co-exist peacefully with wildlife as our landscape continues to change. 

 
Spot a coyote? Tell us about it.
You've done your job, help us do ours.