Today in Moncton New Brunswick a member of the RCMP killed a coyote with his vehicle.
Yes. Premeditated. Without provocation.
The officer deliberately, set out to kill… one… lone… song dog. Shocking move by highly trained members of Canada's elite. Or is it? One thing is for sure, this tragic event is sad and a pure act of needless violence against one lone coyote. Is this the best response to a single coyote law enforcement could muster up? CBC News reports that the RCMP officer "purposefully ran over a coyote with a police vehicle on Tuesday because that was the safest way to deal with the situation." Say this is not so. Where was the compassion? Where was the common sense?
Allegedly the coyote was wandering down the streets, into backyards, and was later observed at the Via Rail Station. The coyote was perhaps looking for the regular handout. Maybe he or she was chased or harassed into downtown? Or could it be that this coyote was curiously finding his or her way to a new territory? Autumn does bring about great periods of dispersal for coyotes and other wildlife species. Whatever the reason(s) this coyote came to visit this Moncton community today, it did not deserve to die.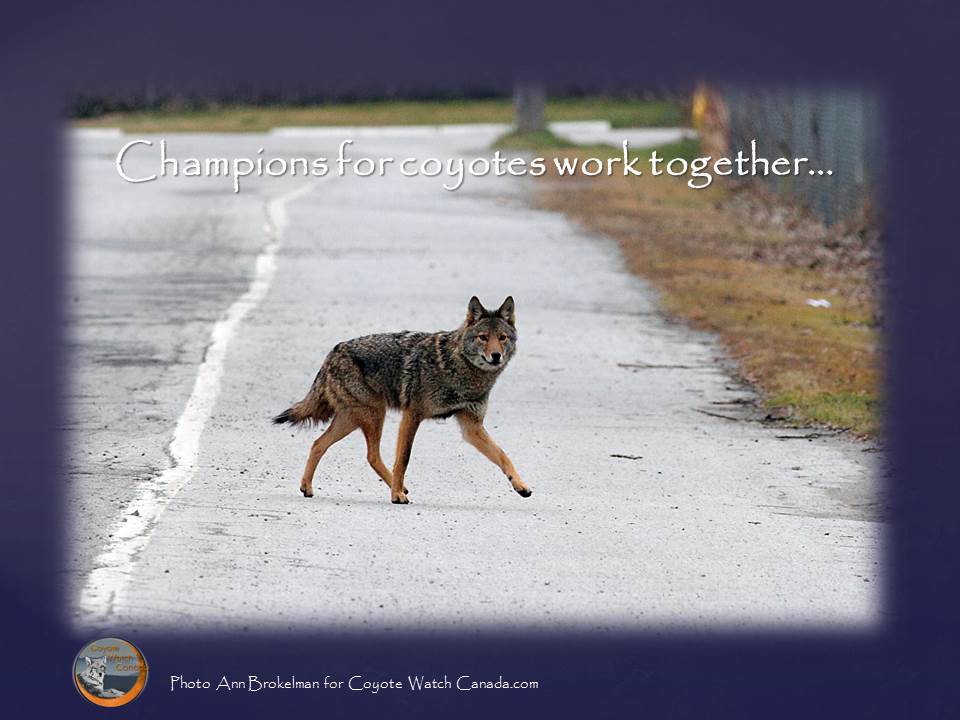 There are conscientious strides being made in other communities to provide solid and safe wildlife response training for law enforcement personnel. Coyote Watch Canada's founding director Lesley Sampson, presented Co-Existing with Coyotes at the Municipal Law Enforcement Officers Association Conference (MLEOA) held in Niagara Falls, Ontario in September. The conference participants were given the opportunity to explore the changes occurring in coyote habitat. Frequent urban sprawl is displacing animals such as coyotes and there is an important role that front line responders must often fulfill. Growing population of coyotes and other urban wildlife in many urban centers puts policy makers on notice to come up with appropriate non-lethal protocol. Strategies and investigation techniques were demonstrated to attendees that not only promoted a better understanding about seasonal coyote activities but also the ecology behind the intelligent, adaptive nature of coyotes. Officers came away with a take home message that fostered how to safely and peacefully co-exist with coyotes. Hazing coyotes is an excellent, non-lethal method that can be actively applied by people to discourage a coyote away from an area. The feedback about Co-existing with Coyotes was extremely positive from all levels of law enforcement including animal control and city staff.
We encourage the citizens of Moncton to look at other communities such as the City of Niagara Falls that have successfully enacted a compassionate Living With Coyotes program. Please learn from this senseless and unnecessary act of sheer violence and consider a kinder more sustainable approach to addressing wildlife in the city. Investigate the proactive ways to minimize wildlife attractants in the cityscape through diligent and cooperative wildlife proofing. Engage, educate and empower residents, policy makers and all law enforcement staff about appropriate, safe and non-lethal methods for wildlife conflict resolution.
Coyote Watch Canada stands willing with the sincere offer to work in partnership with the RCMP of Moncton New Brunswick in developing a more progressive and compassionate response protocol when called to duty in their community.

For more information about our compassionate wildlife community program success read our story.
To learn more about peaceful coexistence between people and wildlife please visit us at Coyote Watch Canada.
Check out our wildlife coexistence partners at APFA too!