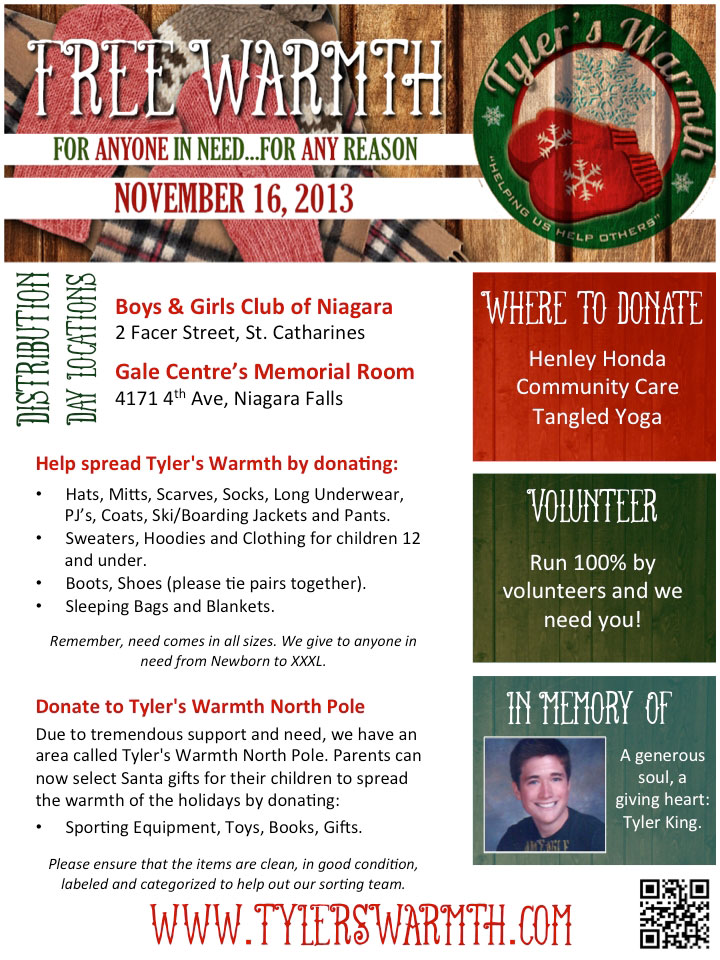 Tyler's Warmth is a group that collects clothing and has a free clothing drive for anyone in need. This is their first year doing the drive in Niagara Falls and it's happening this Saturday. Please friends help a family in need. It sure is cold outside! We know you care, so please share!
[code]If you know anyone who can volunteer anytime this Friday from 8am-8pm at the Gale Centre 4171 Fourth Ave, Niagara Falls, to set up the clothing, please contact Sarah Conidi @905-356-7521.[/code]
Also, they still need 6 volunteers for the 7am-9am shift on Saturday, November 16. Volunteers for that shift can register at www.TylersWarmth.com. Although their distribution day falls on the same day as the Santa Claus parade, we know the folks in Niagara will generously help to recruit volunteers from our beautiful caring city and surrounding areas!
[code]Still want to show you care but can't volunteer? No worries! You can always drop off a warm item of clothing instead OR donate to Tyler's Warmth North Pole![/code]
Please click on poster photograph. Don't forget to post and share the poster too!
Please kindly ensure all donations are ready to wear- clean, no need to mend, or add buttons/zippers! Thank you from the CWC Team!