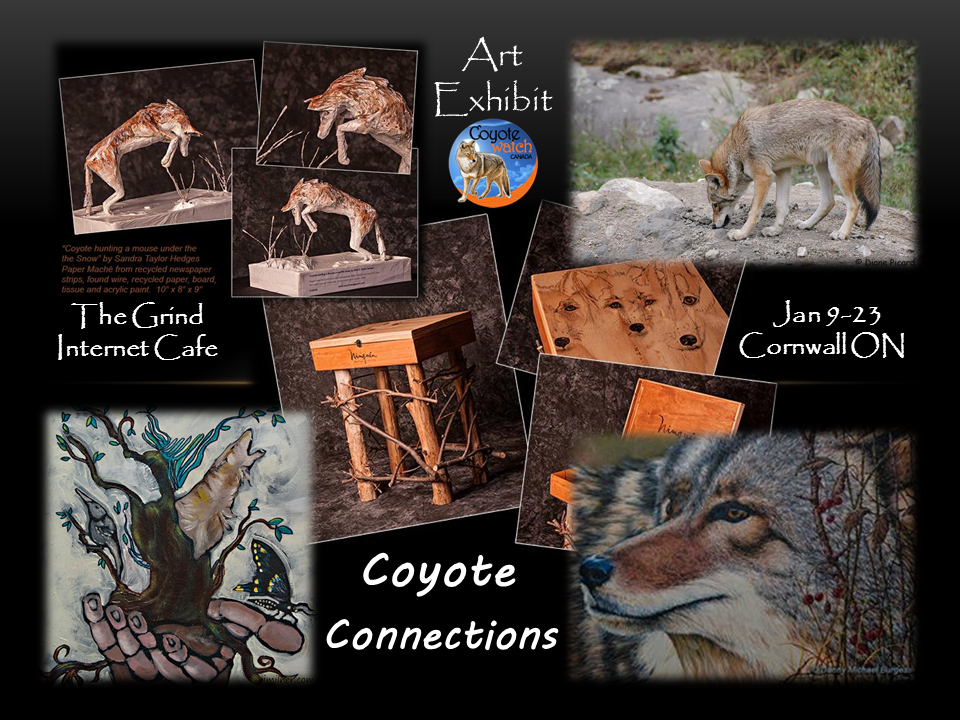 Together, Coyote Watch Canada (CWC) along with our friends from APFA, are thrilled to have the opportunity of presenting to the progressive City of Cornwall, Ontario. Our Outreach Team will be spending several days on location to provide enough time to meet and collaborate with City Staff, gain insight from community members and to discuss our Living with Coyotes Program model in place for the City of Niagara Falls. We will also have the amazing opportunity to conduct "out in the field" observations and visit a local farming family.
Tune in to an interview done by Cornwall Seaway News of Jacqueline Milner, art exhibit participant and organizer, local artist and CWC volunteer, as she discusses the Coyote Connections Art Show at The Grind Internet Café. Visitors can sip a hot cup of coffee or dine on one of the many homemade creations. The art exhibit is open to the public from January 9-23rd. We are extremely fortunate to have received such positive media coverage about our compassion driven art exhibit and our Coyote Coexistence Event by reporters Mary Anne Pankhurst and Adam Brazeau. Check out the local coverage in the Cornwall Seaway News and Cornwall Free News
The Coyote Watch Canada Team continues to be instrumental champions in fostering compassionate coexistence programs for communities by providing effective strategies for peaceful co-flourishing between people and wildlife. If you are in the Cornwall are please come and join us for a dynamic discussion about coyote coexistence! Our universal community matters.
Please share with friends and family our message about the Coyote Connections Art Exhibit and our evening presentation Coyote Coexistence. Details about both of these exciting venues can be viewed and shared.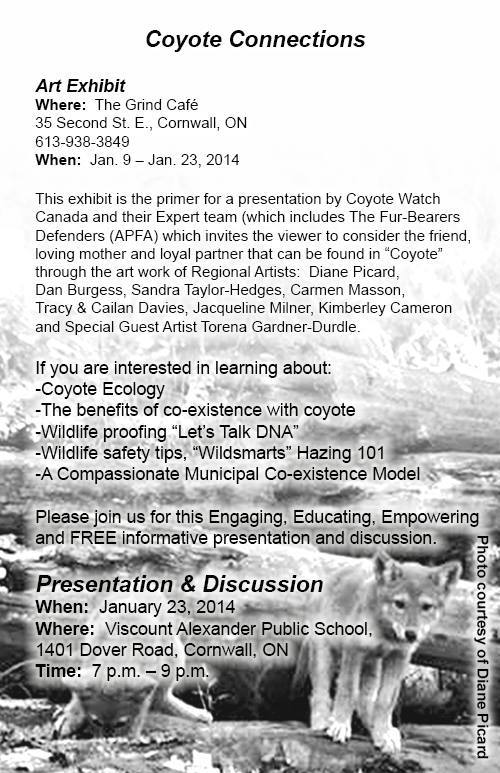 To the City of Cornwall – We say thank you for your continued support and enthusiasm.