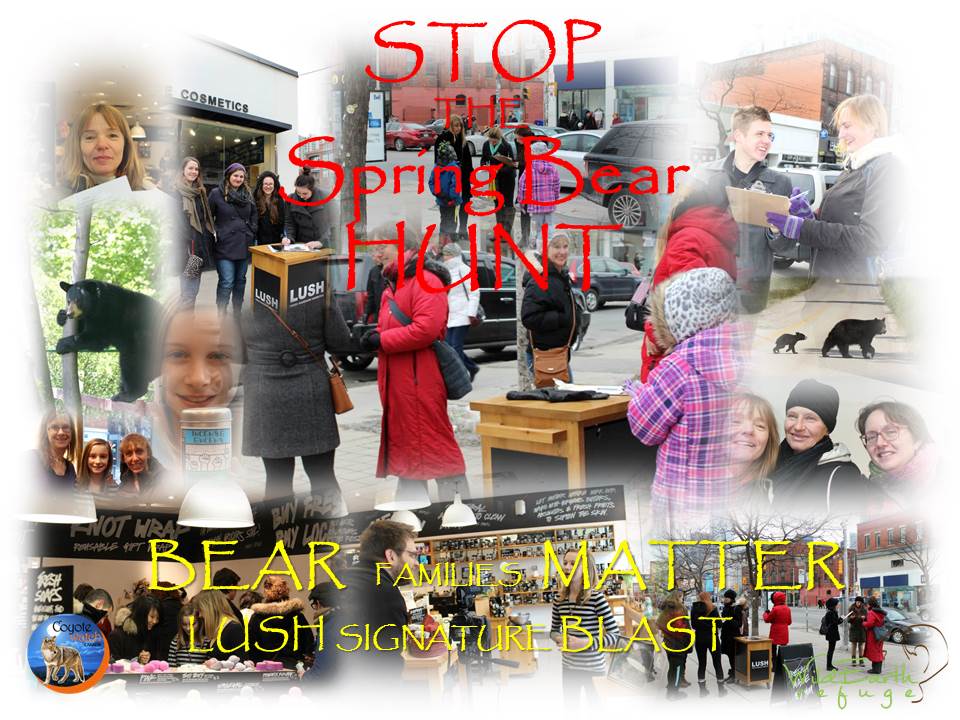 A young Ontario girl named Jasmine Polsinelli decided to put her compassionate heart to work and raise awareness about bear families at risk in Ontario this spring. With the generous help of LUSH Cosmetics and a clan of volunteers including Coyote Watch Canada, an awe inspiring signature blast hit Queen Street in Toronto. This lofty and thoughtful plan to create a signature blast that provided many visitors and residents the opportunity to learn about the pending fate of a spring bear hunt that awaits bear families. Speaking out against the spring bear hunt and inviting others to participate by signing the petition headed for legislation shows the compassion that so many Ontario residents bring to the issue. Families helping bear families.
After a fifteen year spring bear hunt ban on the barbaric practice called "baiting" where sweets and junk food are left in barrels/piles in the landscape, using hounds to tree bears, orphaning cubs to die of starvation, the Ontario government has gone all out to gain votes in the north by promoting the two year spring pilot project to hunt bears once again in the spring. The politics behind the decision to resurrect the hunt should be of urgent importance to every Ontario resident. We are all being mislead and bears will pay the ultimate price with their lives. The price is too dear as pointed out in a thought provoking article in the Guelph Mercury by Thomas Walkom. Read more. Not all municipalities are relying on a letter sent by Queen's Park about the hunt. Our government along with the loud spring hunt lobbyists claim the spring bear hunt is to make communities safe. Education and prevention works to curb wildlife-human conflict, not more killing. More junk food left in our wild lands is not good for bears, other wildlife species or people.
The day was eventful with the many volunteers that arrived ready to help gather signatures to end the threat against bear families in Ontario. Folks from across Ontario, from Timmins to Sudbury, hunters/non hunters, city residents and visitors signed the petition. Citizens were engaged, had the common gut feeling that the spring bear hunt was not the answer to address human-bear interactions. Thank you LUSH and all the volunteers that made the day a success!
Coyote Watch Canada had the opportunity to speak with our Junior Representative and event organizer, Jasmine Polsinelli about the LUSH Cosmetics Event. This is what she had to share about the day.
Are you pleased with the positive results from the LUSH Signature Blast on March 1st 2014?
Yes, I am very pleased with everything that happened March 1st! We were able to educate many people about the spring bear hunt. We were also able to address hunter lobbyists fear propaganda that is being used so they can kill bears, and has nothing to do with resolving human/bear conflict. We shared facts, putting to rest inaccurate information about black bears. Our goal for that day was 500 signatures, and we got over 805 signatures!!! That means that over 805 people hand signed a petition to help bears in Ontario and walked away knowing the Liberal party supports killing bear families.
What motivated you to do this event?
I attended an amazing presentation by Mike McIntosh from Bear with Us. He shared touching stories about bear families, the spring bear hunt, and how it is not going to address human bear conflicts. There are programs like the bear wise program that help people and bears get along peacefully and it has shown to be very effective. The Bear Wise program is used in places like Elliot Lake, in the heart of bear country and as a result there is few human/bear conflict.
After hearing Mike speak and doing further research on my own, it became very clear that this hunt isn't about nuisance bears. It's about Wynne and her unethical campaign to win seats in the north. Politics at the cost of bear families is not what people in Ontario will vote for. Who wants a Premier who has no compassion for animals? How do we address human/bear conflict? We don't need to use guns, we need to use education.
What inspired you to do this event?
I wanted to educate people about what I learned about bear families and the spring bear hunt. Lush Cosmetics is a wonderful place, and very supportive of my efforts. It was a great place to spend the day to talk about something that I care deeply about.
For more information about the spring bear hunt and how you can help Ontario bear families please visit: Bear With Us
ONTARIO RESIDENTS- 3 Actions that help our bear families:
1) Thank you to everyone that commented on the EBR. Your input speaks volumes to end the spring bear hunt.
2) HARD COPY PETITION- Download our hard copy petition and get as many signatures as you can! Visit: http://bearwithus.org/archives/1590
3) LISTEN in to Defender Radio – With Bear With Us Sanctuary and Rehabilitation Centre for Bears – Mike McIntosh http://furbearerdefenders.com/blog/episode-119-the-right-to-bear
OUT OF PROVINCE & INTERNATIONAL CONCERNED CITIZENS- You can help too! SIGN the PETITION On-Line https://www.change.org/en-CA/petitions/ontario-minister-of-natural-resources-do-not-re-institute-the-spring-bear-hunt
**Please be proactive and become aware and educated about the facts surrounding this controversial and deadly politically motivated move by our Ontario government. http://www.animalalliance.ca/campaigns/ontario-spring-bear-hunt.html and you can show your support by adding a "LIKE" to https://www.facebook.com/NoSpingBearHunt