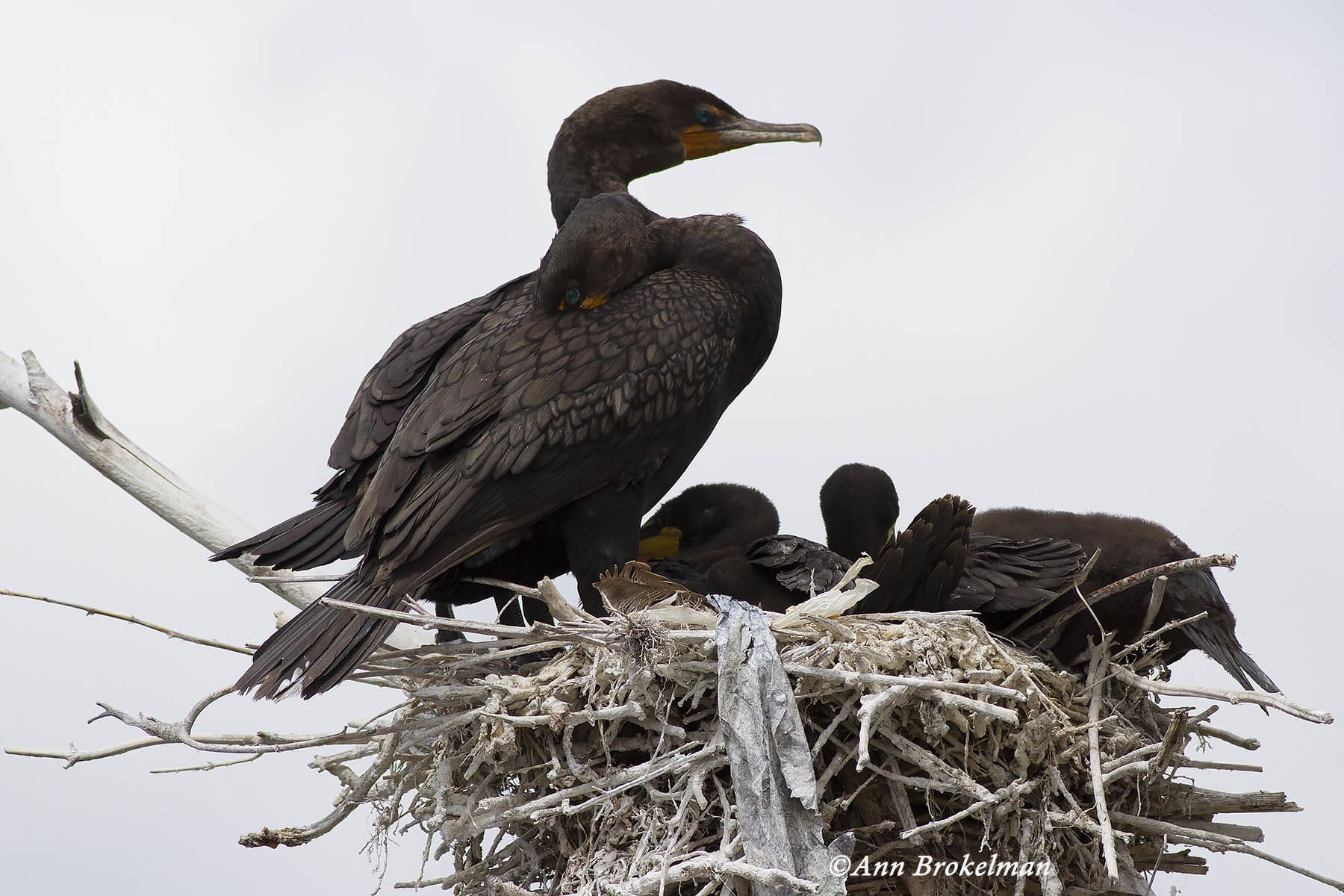 "My introduction into the fascinating world of the Double-crested Cormorant began in the early eighties. While out surveying an old canal habitat for Eastern coyotes, I caught a glimpse of an amazing looking 'bird' dive bombing the waters like a mini torpedo. Having not the greatest eyesight or slightest inclination of what I had just seen, I squinted to see where this strange creature would resurface, if at all. I was way off my calculations and to my delight and surprise, this gorgeous bird emerged with a fish in tow. I was in awe, inspired and could not wait to return home to investigate more about this new species 'I had discovered'. That was over 3 decades ago and over the years I have been blessed to watch these resilient birds care for their young, hunt for fish; and introduced bird watching to my young one who today also shares a joy and reverence for this magnificent species."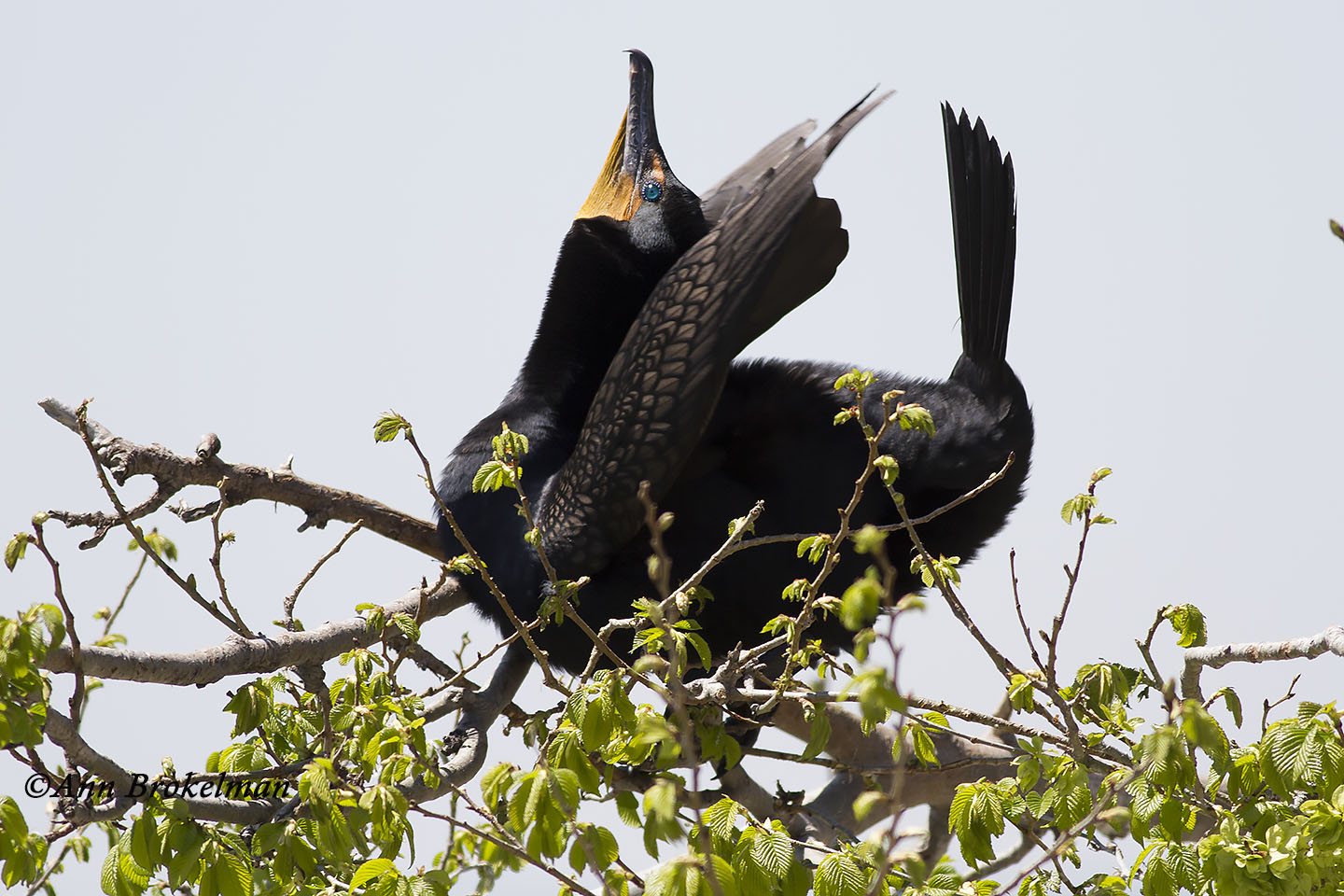 On the horizon in Ontario there is a liberally sanctioned 'marked for death' hunting proposal of the Double-crested Cormorant by the Government of Ontario. This is not only deeply disturbing but goes directly against the ideals of public trust. What the government is proposing is an annihilation of a species that has been under siege by humans for decades. The intent is obvious or did the government overlook the end results of this environmentally reckless proposal? The math is simple. The lack of defensible, evidenced science is glaring. Respectfully, we ask our government to do better than this.
What is the Double-crested Cormorant facing?
Proposal to establish a hunting season for double-crested cormorants in Ontario
The Government of Ontario proposes to open a hunting season for Double-crested Cormorants from March 15 to December 31 each year along with a special classification as "small game" in central and northern Ontario from June 16 to August 31 each year.  This drastic, inhumane proposal would also afford cormorant killers a 'bag limit of 50 cormorants/day', shooting nesting birds and their off-spring during their most vulnerable milestones from a watercraft, and going against all conservation-minded principles, the dead bird carcasses can be left to rot on site. Astounding and shocking, regulatory changes to the Fish and Wildlife Conservation Act are being sought that promotes and will accommodate piles of carnage left to rot. No slap on the wrist for spoilage.
The unscientific argument by a small, but vocal lobby that supports the proposal falls under the guise of declining fish stocks, habitat destruction and aesthetic complaints; all due to the Double-crested Cormorant. Their claims fail in theory on the heels of a recent news release by the Ontario government putting a freeze on fishing licence fees. According to John Yakabuski, Minister of Natural Resources and Forestry "recreational fishing is a $2.2 billion industry in Ontario. People come from all over the world to experience what this beautiful province has to offer, including fishing in our many lakes, rivers and streams, and we are helping the people of this province and their families do the same."
Based on this news release, recreational fishing is thriving in spite of the plethora of misleading claims by organizations such as the Ontario Federation of Anglers and Hunters (OFAH). OFAH also weighed down the discussion about Canada going lead-free with respect to lead ammunition and fishing tackle. The environmental impacts and cascade effects on wildlife such as secondary consumers ingesting living/dead animals that harbour lead products, were not of slightest interest in OFAH's list of concerns. Cost of phasing out lead which is affordable to recreational hunt/fish enthusiasts and having to find the products was high on their reasoning to keep lead available.
What you can do?
Please join the mounting opposition from scientists, nature organizations and concerned citizens about this ecologically reckless, inhumane and short-sighted proposal by submitting your comment to the EBR 013-4124 by January 3, 2019
Contacts:
Please tell the Minister of Natural Resources and Forestry, John Yakabuski, to abandon plans to open a cormorant hunt in Ontario. Email john.yakabuskico@pc.ola.org

Premier Ford (416-325-1941 or email: Premier@Ontario.ca) and voice your opposition.
Please send your comments to the Environmental Registry at: https://ero.ontario.ca/notice/013-4124
All your comments will be reviewed by the Ministry of Natural Resources and Forestry before a decision is made to proceed.
Wildlife Section
PUBLIC INPUT COORDINATOR
Ministry of Natural Resources and Forestry
Policy Division
Species Conservation Policy Branch
300 Water Street
Peterborough Ontario
K9J 8M5
Phone: (705) 755-1940
Fax: (705) 755-2901
To learn more:
Raise awareness by sharing one of our social media photographs.