"I believe that Saturday was our one and only chance to secure this coyote. I can't see how he would have lived another 24 hours, had we not been able to release the snare from around his neck and begin treatment. The determination of the finders, Ann and Fred, was inspiring. And the willingness of everyone involved to spring into action so quickly made it an easy decision for me to make the drive from Guelph to Fort Erie to assist with this rescue. I'm relieved that Faith is in good hands with TWC, and I'm hopeful that we'll be able to return him to his family." Becky Rothwell, Coyote Watch Canada (CWC) Canid Response Lead Guelph Ontario, Canada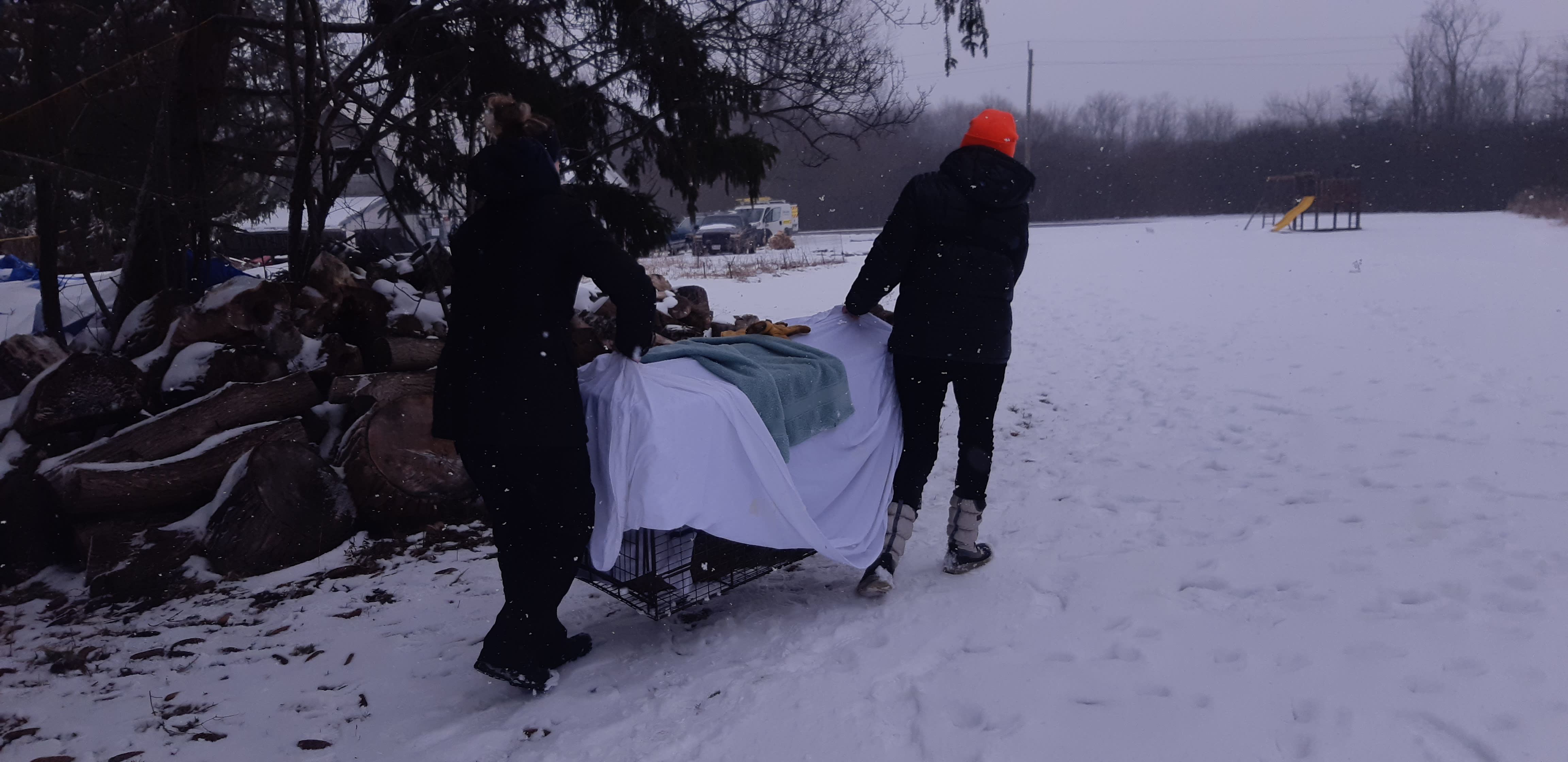 Above photo of Sara (TWC) and Lesley (CWC) transporting Faith to the van.
We never know where the journey will take us in the work that we do as CWC volunteers. By far the most rewarding experiences come from the community outreach through our Canid Response Team. Reflecting on Becky's quote; the need for life-saving quick action, teamwork and believing that as humane beings, we can make a compassionate difference in the lives of animals is at the heart of what we do. For Faith, a kind couple made a call for help which began a series of events that ultimately saved his life. Always make that call.
Behind the Scenes
We received a call to our hotline number by a distraught couple, Ann and Fred, about a coyote that was showing signs of distress. They knew this coyote and his family well, having observed them for over three years. After reviewing the photos sent to us, we realized immediately that the coyote now fondly named 'Faith' had a kill snare hanging tightly around his neck. Ann had thought that this was a branch attached to his fur as she never fathomed there would be killing devices out in the beautiful fields and forests near her home. Faith had been struggling with this snare for about eight days. Who set this cruel snare and why is unknown. The pain and suffering that Faith endured is unimaginable and difficult for many nature lovers to read about. 

With laboured breathing, Faith's life was slipping away. We knew the urgency to mobilize his rescue swiftly. Outreach calls were made to our friends at Toronto Wildlife Centre (TWC) and a plan was put into action. Two CWC Canid Response Team reps, three TWC personnel and the compassionate couple worked together and Faith was successfully secured. Watch our video 'Saving Faith'. 
He was transported to TWC for assessment and care to stabilize his current condition. The injuries Faith sustained to his trachea from the snare are extensive. On March 6, Faith underwent a very specialized surgery and pulled through. All of us at CWC, along with our supporters will be following his progress in the coming weeks. He has a long road to recovery before he can be reunited with his mate and family. Our prayers and thoughts are with Faith and the wonderful, caring team that performed the surgery and will provide the care he needs in the days to come. He is a resilient coyote under the best of medical attention. The challenges for healing his spirit and body are in his favour. We have faith.
On the Home Range
We continue to stay in contact with the finders, Ann and Fred. They shared with us that each night Faith's mate comes to the location where he was rescued from and calls out to him. Sadly, her barks go unanswered.  This is a difficult transition for this female mother coyote not understanding what has happened to her mate. The yearlings will also be confused and missing their father. We hope that the female remains in her territory with the family waiting for Faith's return.
Snares are indiscriminate devices of suffering and death. In Ontario, snares are put on the landscape without any identification or signage. Please join Canadians in working towards a ban for snares.
To take action and learn more see our guest blog post 'It's Time to Ban Snares'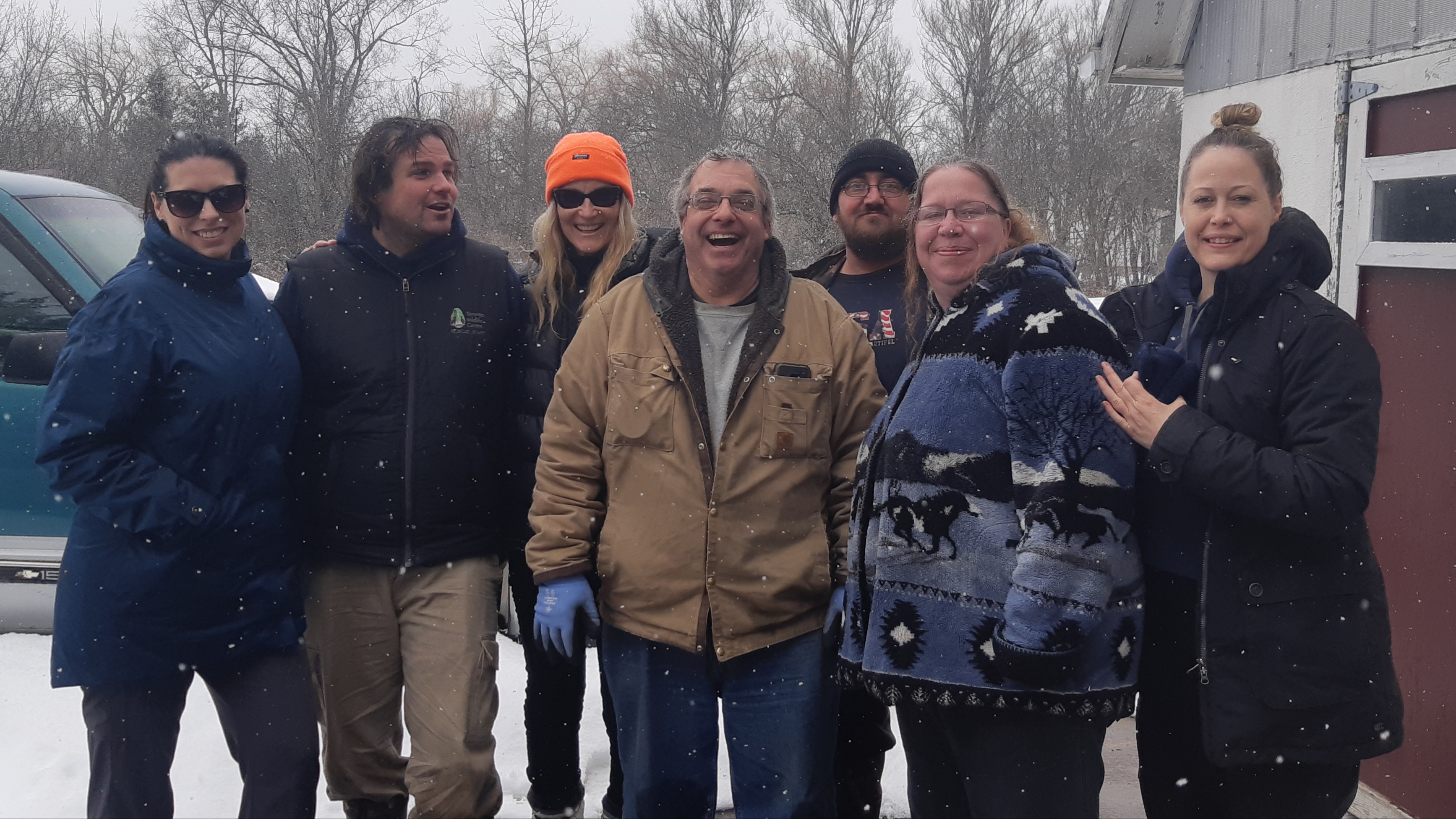 Rescue Team Photo Front L to R Becky (CWC), Andrew & Harry (TWC), Ann (Finder), Sara (TWC). Back L to R Lesley (CWC) and Fred (Finder)
We are grateful to TWC for their dedication and the efforts put forth by their medical team. Gratitude to the Fort Erie SPCA for directing the finders to contact the CWC hotline for help, and our thanks to Dr. Sherri Cox of the National Wildlife Centre. Lastly, to Ann and Fred, the finders that demonstrated so much love and kindness towards Faith. We cannot thank them enough for calling us. 
Please consider supporting our vital wildlife outreach Canid Response Team and community educational programs. Your generous donations help us continue our efforts.
In gratitude, Coyote Watch Canada