If you have ever experienced the sinking feeling of helplessness at the sight of a sick or injured wild animal, then this story is for you.
This story is sad, but I'm sharing it for a good reason.
This situation took me back to a time before I was involved in wildlife rescue -- a time when I had no idea what to do when I saw a wild animal in need of help. And it highlighted an opportunity to empower others.
This week, Coyote Watch Canada received a call from a gentleman who reported seeing two sickly coyotes on his property over the course of several weeks. We promptly mobilized to assess the condition of the animals and the potential for rescue.
During our visit, we found the coyotes. They were young - born this year. They were infected with sarcoptic mange. They were nearly furless. They were emaciated. And they had died together the night before. We were a few hours too late.
I don't normally share sad or graphic photos, but I will share this photo with you, because it tells you more about these animals than I can express succinctly in words. These are siblings. They are family. They died together trying to keep each other warm. This is how we found them.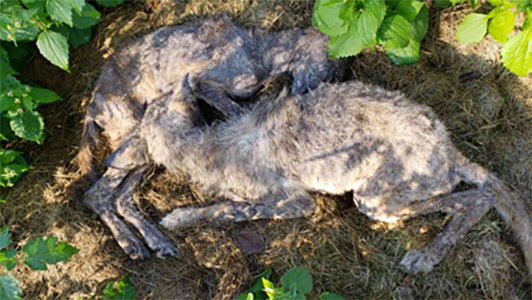 The finder wished he had known about us sooner. He wished he could have alleviated this suffering. He wished he had known what to do.

I have the benefit of knowing what to do. So, I'd like to use this story to catalyze something positive. I'd like to tell you how you can help organizations like ours in our rescue efforts.

As finders, you play a bigger role in these rescues than you think.

When you call us about a sick or injured canid, we want to help. We also need to be realistic about the feasibility of rescue, and finder details are vital to determining whether or not a rescue response has a reasonable chance of success.

Here's how you can help, particularly with wild canids, who can be challenging to capture:
Get to know your local wildlife organizations and animal services. Have contact information handy so it's there when you need it most urgently.
If you think an animal requires medical attention, reach out to a local organization sooner than later to find help and put the animal on our radar. If the animal is contained or downed, call immediately.
Keep a log of sightings. While a single sighting of a mobile canid rarely amounts to a successful rescue, multiple sightings give us hope for capture. Record the date, time, and location of the animal each time. Record the direction in which it was headed. Note any obvious injuries or physical traits that would help to identify the animal. All of these details help us track travel routes, ranges and frequency of appearances.
Take photos and videos. These are incredibly helpful for us in assessing the condition and mobility of these animals.
Talk to your neighbours. Coordinate efforts so that sighting details can be consolidated and shared with us. The more information you can provide, the better our chances of success are.
Don't assume that the kindest thing to do is let nature run its course. Talk to a wildlife professional. Sarcoptic mange is not "nature running its course" – this parasitic mite was introduced purposely into our wild landscape by humans decades ago to wipe out wolf populations. We underestimated its deadly potential and ability to jump hosts.
Spread the word. Talk to others about how they can help or be better prepared for situations like these. Learn about your wild neighbours and do your best to stop the spread of misinformation.
Do what you can. You may not know or understand these animals. You may not even like them. But I think we can all agree that there is enough suffering in this world. So, if you can help to alleviate some of this needless suffering among our wild neighbours, please do so.
Thanks for reading,
Becky RCanid Response Team Lead (Guelph) and Rescue Coordinator, Coyote Watch Canada